I was up to
the challenge.
..I knew I could
complete the task.
..I had my
game face on
...I was
ready
...
The challenge?
Set a table! Well that is no problem! I do that daily!
But now here's
the catch...use paper products!
Soooo,
off to the
Dollar Tree
for those must have items! Walking down the aisles I found lots and lots of paper products...
birthday, wedding, school, valentine's day, mardi gras
...
whoa
,
stop right there!
Mardi Gras!
There's my inspiration!
I've always loved the colors of mardi gras...
Purple
:
signifies justice
Gold
:
represents power
Green
:
stands for faith
Bright, colorful, fun...party time!
I decided to use the hubby's handcrafted table for our lunch party for two! He built this table using the old
western cedar
that had been torn off the lake house's old porch.
Very nice if I do say so myself!!
LOL!!
On top of my red chargers I placed the square paper plate. Aren't the colors pretty?
Inside the sherbet I placed the paper napkins and of course the mask. At the
mardi gras
parties most
party-goers
wear masks!
Additional masks were scattered around the table.
I used my cake stands to add height to the center piece.
I added part of the King Cake
(most of it had been eaten, gobbled up, and the baby had been found before I started this challenge)
on the the first cake plate. Adding the beads, masks, and the crown made a simple but festive center to the table.
And there you have it...mardi gras lunch for two!
The King Cake is an apple cinnamon pecan...
yummy!
The paper products worked well for this lunch...
The meal you ask?
The hubby and I sat down to gumbo, salad with greens from
our his
garden, crusty bread, and a glass of wine!
All in all a very fun party!!
Have you used paper products in your home lately? Please share! I like to hear your ideas!!
See ya down the junkin' road!!
Jan
Partying with: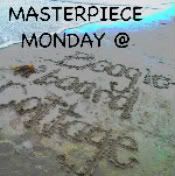 http://thetablescaper.blogspot.com/2012/01/seasonal-sundays-83kitchen-blues.html