Let me tell you a story, a
true story
of where the
junkin's road
has taken
my friend and me
this time...
As all of you know I love to travel!
("That's an understatement!", says my friend. "Just mention GO and you are ready to start the car!")
Anyway
,
I travel,
period! And when I find new places
(especially if I find some GOOD junk)
then I get excited and want to share my "finds!"
Soooo, as
my friend and me
were leaving one of the thrifts in good old
T'town
(that's Tuscaloosa, AL) I spied this...
That's right a brand new store, located on Skyland Blvd., with lots of good parking!
The stores,
Dirt Cheap
, came from an idea to empty the shelves of parent store,
Treasure Hunt
, in their warehouse location,
Lumberton, MS
. Needless to say it was a huge success and 25 years later
Treasure
Hunt/Dirt Cheap
is still going strong! The company is the largest buyer of insurance claims in the United States. They have also added other distressed situations, such as...manufacturer and retailer buybacks, closeouts, bankruptcies, overstocks, liquidations, customer returns and out of season goods. Now granted some of these items are damaged goods. However,
all good junkers
know the thrill is in the hunt! If you are willing
to dig
then treasures can
be found for CHEAP!
!
My friend
introduced me to
Dirt Cheap
when the hubby and I were visiting in Louisiana (remember I love to travel!!) Everyone in the group came home with wonderful treasures from that trip!!
Then, I found
Dirt Cheap
in Cottondale (outside of Tuscaloosa) and bought many things. But today was the first time to visit this new store!
You never know what merchandise is available! And in all stores like this
if you see it, want it, then you better buy it
because it probably won't be there the next time you go!
I just couldn't resist this cupcake tower...
Cute
,
RED
, perfect shape, and
CHEAP
,
$2.00
. Hey, what can I say?!!
Most of you will remember the terrible outbreak of tornadoes that literally tore through
Alabama, April 27, 2011
. The
Tuscaloosa area
was hit hard. So that being said, I don't know if this store is especially catering to the rebuilding phase or if this store plans to carry huge supplies of building materials. And there were lots and lots of building supplies...
For all those tools...notice windows, flooring, rugs
See sign...
70 percent off.
. (priced marked)
Boxes and boxes of tiles...
$1.79 per square foot...
So much available to rebuild homes that were destroyed...
Overstocks of books...80 percent off
End of season...
Closeouts...leather footstool
The store carries linens, clothing, toys, schools supplies and the list goes on and on...
My friend and me
are already planning the next trip to T'town and making extra time to spend in
Dirt Cheap
! What about you? Have you found some
great
,
cheap
places to shop?
Have a Blessed Day!! And see ya
down the junkin' road
!!
Jan
Partying with DebbieDoos...
Nifty Thrifty at Coastal Charm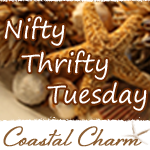 And I want to thank Debbie for blabbing about me and southern junkin' in my post,
On the Road to Bon Secour